We had tremendous responses to the Community Prize and we really appreciate all the contributions participants have made. We hope these submissions inspire more people to get started with the challenge and also contribute to the community!
It was a tough call to pick Top 4 because there were so many amazing submissions! We finally decided to extend the prize to top 6 participants instead of 4, and the winners are…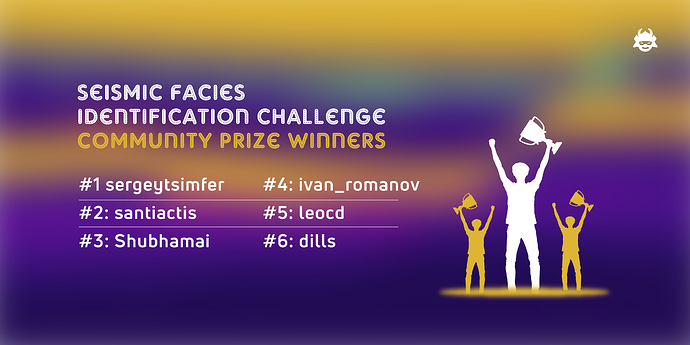 Congratulations!!

---
Check out their contributions
@sergeytsimfer: [Explainer] EDA in details, baseline and advanced models
@santiactis: [Explainer]: Seismic Facies Identification Starter Pack
@Shubhamai: [Explainer] Detectron2 & COCO Dataset 🔥 • Web Application & Visualizations • End-to-End Baseline & Tensorflow
@ivan_romanov: [Explainer] PyTorch starter 0.857 F1-Score on public LB
@leocd: [Explainer] Need extra features? Different input approach? Try Seismic Attributes!