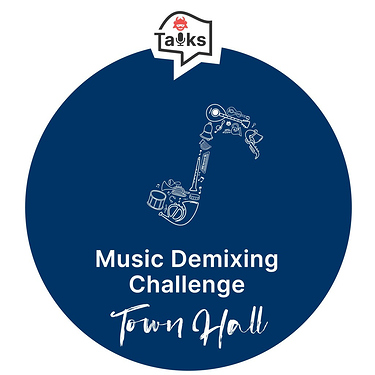 Hi everyone,
The second and final round of the Music Demixing Challenge kicked off recently, and the competition is getting intense everyday!

This challenge has brought a large community of researchers and enthusiasts from over 33 countries together, all working on the same problem.

You may have seen them on the leaderboard or on the community forum, but now I'm excited to invite you to the Community Town Hall, where you can interact with fellow challenge participants live and discuss ideas!
The Town Hall is happening today on 3rd July,
at

5 PM CET
Register for the Town Hall here!
We have a great lineup of talks from the challenge organizers, baseline creators, and more!
We will also go deep into the second round of the challenge and discuss its intricacies with the challenge organizers, The Town Hall will run for around an hour and will serve as a great way for the community to come together and discuss the challenge.
Resharing the link for Town Hall registration

aicrowd.com/music-demixing-townhall
See you then!