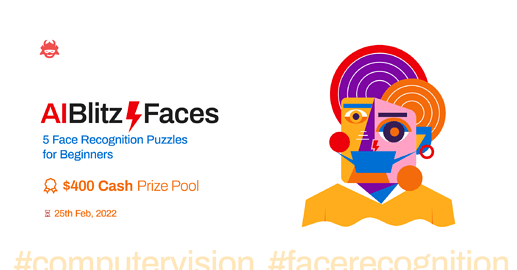 Each face has a story to tell. Our faces allow us to communicate without using any words. This Blitz brings you the essential computer vision AI problems around face recognition. Solving these 5 Blitz puzzles will prepare you to tackle more advanced face recognition problems in AI. ​​Backed by easy-to-understand starter kits and active support from AIcrowd Community, make your first submission in 15-minutes!
In classic Blitz tradition, leaderboard toppers and community contributors stand a chance to win from a cash prize pool of $400! What are you waiting for? Start solving AI Blitz 13 puzzles so find out what lies behind these faces.
---

TIMELINE
Start Time: 4th February 2022 | 12:00 PM UTC
End Time: 25th February 2022 | 12:00 PM UTC
Duration: 21 days/3 weeks
---

PRIZES
Leaderboard 1st Place: $100
Leaderboard 2nd Place: $100
Community Contribution: 2 x $100
---
Friendly Reminder
Find teammates for this challenge over here .
We have a $200 Community Contributor prize pool, click here to know more & participate.
The top two entries on the leaderboard will win $100 each! Click here to check out the leaderboard.
For any other comments or queries, reply in this thread and we will get back to you!