Hi everyone,
I create this thread to discus the loading strategies and price sensitivity studies you ran during the game.
@simon_coulombe described his attempt to create random shock on his margin (but didn't receive enough feedback to leverage it

). I also hoped @alfarzan would give us this feedback (would have opened many possibilities) but it would have created unfair information for those who joined the competition early…
On my side I tried the following strategy :
I took a variable which was not very relevant (vehicle fuel) and well balanced. I guessed everybody would capture its effect correctly :


On week 8, I used the "fair price" to both types of fuels, and confirmed my underwriting results followed the train data distribution.


On week 9, I gave a 10% price increase to the diesel vehicles (keeping gaz untouched). In the weekly feedback I got a very strong difference in the underwriting results.


To be sure, I did the same on week 10 (this time decreasing diesel, still leaving the gaz at the same price).

Finally I used these results (combined with the size of each conversion levels, the average conversion in each level, and the number of vehicles in each category) to estimate the conversion rate for each vehicle and, then, the impact on the 10% increase or decrease on the conversion. So I could finally build a conversion model for each round :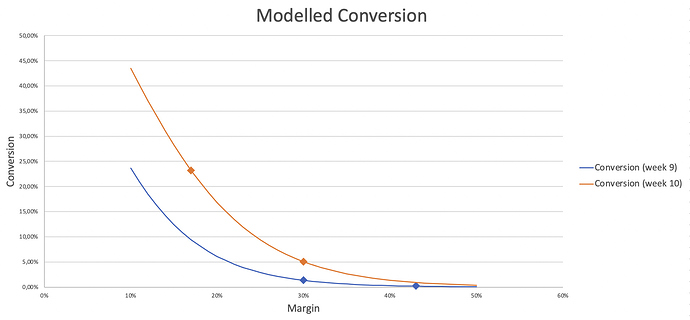 2 main conclusions out of my "demand model" :
the elasticity of our markets are very large (above 15) which makes sense in a winner takes all environment
the market shifted by about 7% between weeks 9 and 10, which led to very different conversion results at the same price. This instability creates a huge element of luck in the results (this is coherent with what we saw on the leaderboard, with some ranks changing dramatically while the submissions were not edited).
@alfarzan has the real data to compute this kind of curves, and it would be interesting to know what they really look like - my computation is full of ugly approximations !!!
Did anyone else try to estimate these elements of the market ?