I feel like I have followed all the provided instructions, but I'm still unable to make a successful submission.
I named the package in the Config class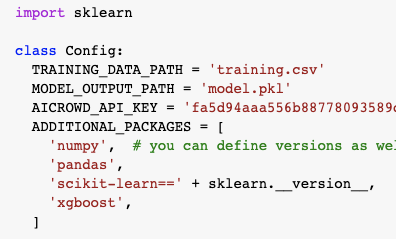 and I have imported it in the appropriate place.

I have attempted uploading a zip file and including the packages in the requirements.txt file to no avail. I also attempted installing and loading the packages within each function as suggested in another discussion post. Am I missing an extra step or have I overlooked some instruction?
[EDIT]:
Here is the most recent error:
"DockerBuildError: The command '/bin/sh -c apt -qq update && apt -qq install -y xgboost && rm -rf /var/lib/apt/*' returned a non-zero code: 100"